A Harbinger of Things to Come!
Griffin Miniatures
has announced the release of its upcoming miniature gaming magazine, Harbinger.
According to the people at Griffin: "HARBINGER is the ONLY dedicated independent miniatures magazine. Packed with news, reviews, guides, goodies, photos, competitions, adverts, scenarios, features and much, much more.......HARBINGER - here to change the face of miniature gaming forever! HARBINGER exclusively focuses on miniatures and strategy games, there will be no roleplaying games, no live roleplay and no card games. HARBINGER is 100% miniatures. We've got painting guides and master classes from some of the world's top talent, reader's showcases, scenarios, free rules, modelling tips and a whole host of other goodies.
At last miniature gamers are getting what they deserve: a magazine devoted entirely to their favourite hobby!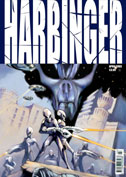 There is no word yet on whether this will be a free downloadable magazine, a printed published magazine or simply a web mag. We also have no word on cost, if any yet. You can count down to the release of this exciting new magazine at
Harbinger
.
Posted by deanoware at 10:11 AM EDT